A war veteran in urgent need of money for his wife's surgery allies with his brother to rob a bank, and when things go awry in a twist of irony, they flee in an ambulance that already has an EMT and a critical patient. This is the synopsis of Ambulance — and it would have been seen as a commentary or satire on the US healthcare system if an indie director had made it.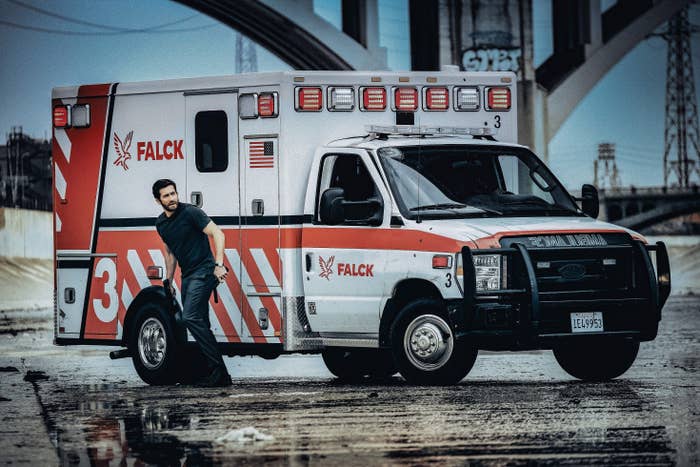 Andrew Cooper/ Universal Pictures/ THA / Alamy
But it has been made by the master of ludicrous explosions, and crazy car chases, Michael Bay. Based on a 2005 Danish picture of the same name, Ambulance is a fast-paced adrenaline-fuelled action thriller that features Jake Gyllenhaal and Yahya Abdul-Mateen II as estranged brothers who hijack an ambulance after a botched bank robbery.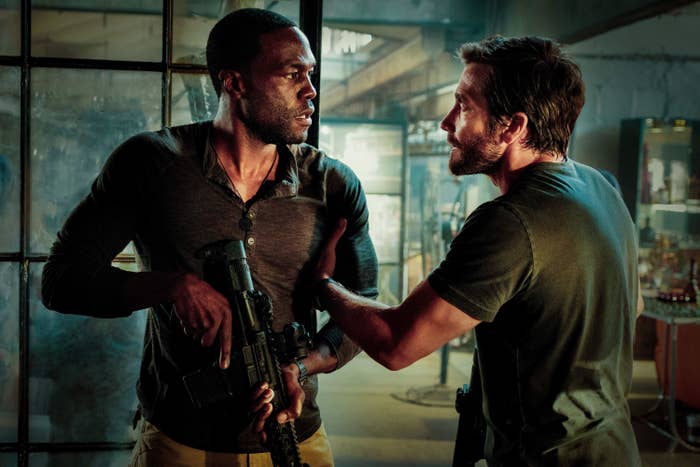 Andrew Cooper/ Universal Pictures/ THA / Alamy
Inside the ambulance is an EMT aide, Cam Thompson (Eiza González) tending to a cop, Zach (Jackson White), who was shot by the robbers during their heist. What follows next is a chaotic, explosive, and insane chase through Los Angeles.
Let's see what viewers are saying about this thrill ride:
1.
It's an entertainment overdose.

Landon Johnson
@LandonHJohnson

#AmbulanceMovie is utter and total Bayhem! It's the most Michael Bay movie ever. BUT, it's got a great plot! The camera shots and sequences are spectacular! Pure cinematic fun.
2.
This is Michael Bay's best movie in quite a long time and what a movie it is.
Holy fuck Ambulance is Bays best movie in a long time. The action sequences are bonkers, the drone cinematography is INSANE, and the musical score by @Lornebalfe is incredible. See this in IMAX for full effect. @ambulancemovie @IMAX
Universal Pictures / Via Twitter: @GeoZaroff
3.
Apparently, it's also the Bayest movie ever.
Just watched #AmbulanceMovie Michael Bay outdone himself on this one. Highly recommend that film!!!Rated-⭐️⭐️⭐️⭐️⭐️
4.
There's some really strong praise flying around.
I *strongly* recommend seeing Michael Bay's AMBULANCE in a movie theater.
5.
If it's Jake Gyllenhaal then it's got to be good.
Father-in-law: what are you seeing tonight? Me: Ambulance Father-in-law: who's in that? Me: Jake Gyllenhaal Father-in-law (who has maybe seen 5 new movies in the last 15 years): he usually picks good scripts
6.
Since an EMT is a central character of the movie, it's good that real-life EMTs like this movie.
As an EMT, Ambulance was a great movie. 10/10 recommend.
7.
Well deserved praise for Eiza Gonzalez. She rented an out-of-service ambulance to prepare for her role.
AMBULANCE: Good movie! Almost overwhelming in IMAX, wow. Eiza González: Automatic A-List movie star.
8.
Good to see that a Latina was cast for the role of an everyday woman despite the story having no link to her Hispanic heritage.
As a Mexican filmmaker, I want to point out the incredible job @michaelbay and @eizamusica did with #AmbulanceMovie. We see a Latina playing a vital role that doesn't address or force her nationality or background. She is the hero she needs to be; no need to tokenize her.
9.
Yahya Abdul-Mateen II is going from success to success. Candyman, Aquaman, and now this.

Reel and Roll Films – FYC Ruth Negga
@reelandroll

Seeing lots of praise for Jake G on here for Ambulance, and yes he's great, but honestly think more praise should be going to Yahya Abdul-Mateen II who's just as essential, the quieter more subdued performance but just as pivotal, grounding it all. Some of his best work!
Universal Pictures / Via Twitter: @reelandroll
10.
For some, this movie was a call back to the action thrillers of yore when action thrillers were more plot-driven rather than gunpowder-driven.
With the right career Yahya could be the type of movie star we haven't in years. Him and Jake in Ambulance reminded me of the spandex-and-quip less past of action thrillers that were endlessly rewatchable on TV because of how the stars at the centre elevated them.
11.
Michael Bay's first theatrical release in five years.
Something of note about AMBULANCE: it cost $40 million. That's surprising considering it looks more expensive and is scaled back for Michael Bay. But also, I hope it does well because moderately budgeted movies like this that rely less on IP should be more common.
12.
The movie brought some relief to people dealing with their own health problems.

Billy Jarrett
@billyjarrettugh

AMBULANCE man, what a fucking movie. Dealing with my own shit with my health and the costs, this movie really cut deep for me. On top of that my fucking god Bay just making everyone look foolish with how good his action is. Those drone shots had me ascending
13.
Robber who is hot hunk.

coffee and the next 20th century
@thesolarcoffee

ambuLAnce is a movie about how hot and insane Jake Gyllenhaal is
14.
Are they using Apple Maps?

Push Carman to Open Old Wounds
@CarmanTse

my favorite line in AmbuLAnce was when Jake Gyllenhaal screams at Yahya Abdul-Mateen "WHY DON'T WE JUST TAKE SPRING STREET"
15.
"High" praise for the movie.
Jake Gyllenhaal plays every single scene in Ambulance like he snorted a small hill of coke right before they yelled "action"
16.
Then why rob a bank?
Jake Gyllenhaal's introduction in Ambulance:
So, how did you feel about the movie? Let us know in the comments below.