The title of Sandra Oh's latest film, Umma, translates to "mommy" in Korean, a theme that's effortlessly weaved throughout the film's plot.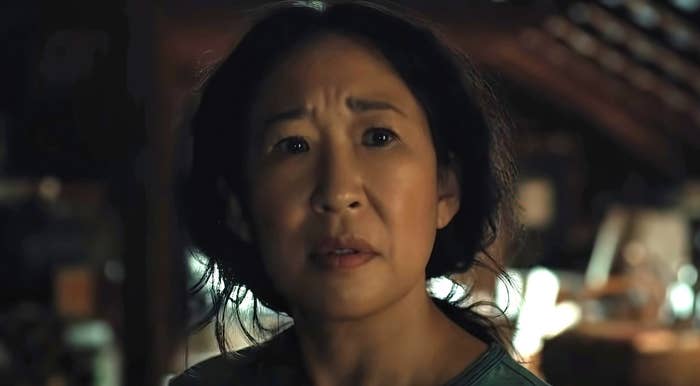 © Sony Pictures / Courtesy Everett Collection
Sandra stars as a Korean-American single mother raising her daughter and honeybees on a remote farm.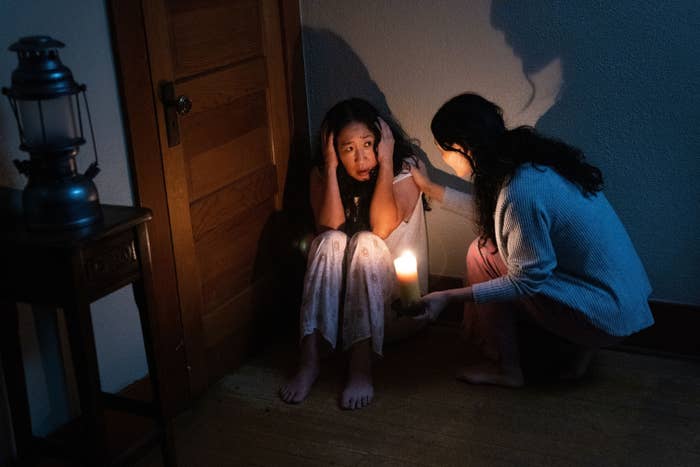 © Sony Pictures / Courtesy Everett Collection
Her life gets upended after she receives the ashes of her abusive and estranged mother, who apparently isn't done with her daughter yet.
Umma touches upon the issue of generational trauma, which is often a taboo topic in many Asian American families.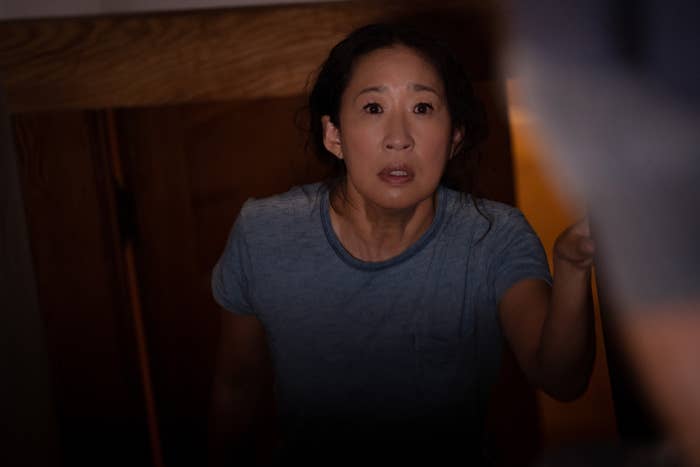 © Sony Pictures / Courtesy Everett Collection
Oh's other recent film, Turning Red, also sought to address this in a colorful and cheerful manner. Umma, however, literally converts the generational trauma into a supernatural entity.
Let's see what the viewers are saying about the movie:
1.
It's a horror flick that generates such intense reaction.
I almost peed my pants watching this, and most definitely won't be able to fall asleep tonight…thanks Umma
2.
It brings up a lot of generational trauma.
UMMA is an interesting tale about generational trauma and how it informs the lives of a Korean-American mother and daughter. I do wish this had more room to let elements breathe, yet its a stellar & atmospheric story fronted by Sandra Oh and Fivel Stewart doing terrific work.
Sony Pictures Releasing / Via Twitter: @roddersj04
3.
Viewers strongly disagree with the reviewers.

The MN Movie Man
@joemnmovieman

I see no reason at all to take a swipe at #UMMA, a perfectly respectable Sam Raimi produced horror flick starring Sandra Oh. Disappointed to read reviews calling it badly directed & poorly made when it's tidier than similar fare with triple the budget & quadruple the audience.
Sony Pictures Releasing / Via Twitter: @joemnmovieman
4.
Three ingredients were sufficient enough for some viewers.
umma has sandra oh and fivel stewart and it's a horror film i'm so ready
5.
Good summary of the movie plot.
UMMA. Remember when you were a kid + drove your mom crazy then she would cuss "I hope someday your kids would be exactly like you"? This horror drama is more or less about that. Produced by Sam Raimi. Quite atmospheric but the jump scares + bad CGIs turn me off #RekomenFilem
Sony Pictures Releasing / Via Twitter: @RekomenByAsrul
6.
Sandra Oh can single-handedly carry any movie.
Umma was good. Some of the explaining of the Korean elements felt very "talking to the audience" but Sandra Oh can act the living shit out of anything and generational trauma turning into generational horror was really interesting.
7.
Sandra Oh is quite convincing as the traumatized and guilt-ridden mother.

Sandra Oh Online
@SandraOhOnline

Sandra Oh's performance in Umma is impeccable!!
Sony Pictures Releasing / Via Twitter: @SandraOhOnline
8.
The movie sheds some light on Korean culture as well.
If you like elevated horror and Sandra Oh, go see Umma. X overshadowed it since they came out same weekend but it's totally worth a watch. It's a great Korean-American story about breaking generational trauma.
9.
It definitely features the trope of mothers inadvertently traumatizing their kids in order to protect them.
run (2020) umma (2022)
Netflix/Sony Pictures Releasing / Via Twitter: @sarahpaulsbean
10.
Sandra Oh dunking it as the Asian mom.

Elizabeth MacLeod
@EntertainECAM

Turning Red and Umma is an amazing double bill of "Sandra Oh Is Scary Mom" films
11.
#UmmaMovie
Sony Pictures Releasing / Via Twitter: @fiImgal
12.
A nice explainer of the nine-tailed demon fox that strongly resembles Kurama from the anime series, Naruto and Naruto Shippuden.
Blink and you might miss the kumiho in this #Umma trailer, a nine-tailed evil fox spirit in Korean lore. Also recently featured in Lovecraft Country. Always great to see different cultures and beliefs explored in horror. This one is produced by Sam Raimi & André Øvredal! https://t.co/IK4clUBPqC
Sony Pictures Releasing / Via Twitter: @FreddyInSpace
13.
Some people are having a difficult time figuring out why Umma gets so much bile from critics?
umma was good it got so much slander for nothing and sandra's performance tho 🤯🤯
14.
Succinct and accurate review of the movie.

Beer Mat Movies
@beer_mat_movies

New-ish release review: Umma #Horror
15.
Comparisons with Turning Red were bound to happen.

blue bear na umiiyak
@jinsoulnerd

umma literally just turning red if it was a mature horror movie
16.
Fivel Stewart got unanimous praise for her role.

Claire | KE4 spoilers! ️
@allaboutcomer

Totally forgot Fivel Stewart stars in Umma as well now I want to go see it even more
17.
At least one viewer could personally relate with the movie's story.

(ಠ_ಠ) mask the f up
@yeahthatPaula

Finally watching Umma and as someone who has severed ties with my abusive mother decades ago my worst fear is getting haunted by her ghost so this movie is fucking me up. Sandra Oh is so good in this.
Sony Pictures Releasing / Via Twitter: @yeahthatPaula
18.
And finally, it's worth noting that the movie is a little more drama than horror, but there's enough of each to satisfy viewers of both.
Umma is more a drama than a horror (which is something that's been happening way too often these days – they advertise one as the other) but it's still very good at what it does.